Ways to Save Money on Clothing

Always buy classic clothing -- Clothing fads come and go so quickly that last year's poodle skirt will bring snickers and giggles if you dare to wear it this season.  This means that $150 you paid for it was a real waste of money.  Avoid buying faddish clothing that will quickly go out of style.  Instead, buy only good quality classic clothing that you can wear five years from now if you haven't worn it out by then.

Buy mix and match pieces of clothing -- Buy clothing items that you can wear with what you already own.  You can get more looks with fewer pieces.  Whenever possible, buy clothing that can be worn year round.

Sign up for sales alerts via email and text – Register your email with a clothing retailer and they will send you an alert when something goes on sale.  They often send you coupons for discounts as well. Follow them on Facebook as well for new discounts.  The Gap, Old Navy, JC Penney, Target, Walmart and others will send you email or text coupons for clothing discounts.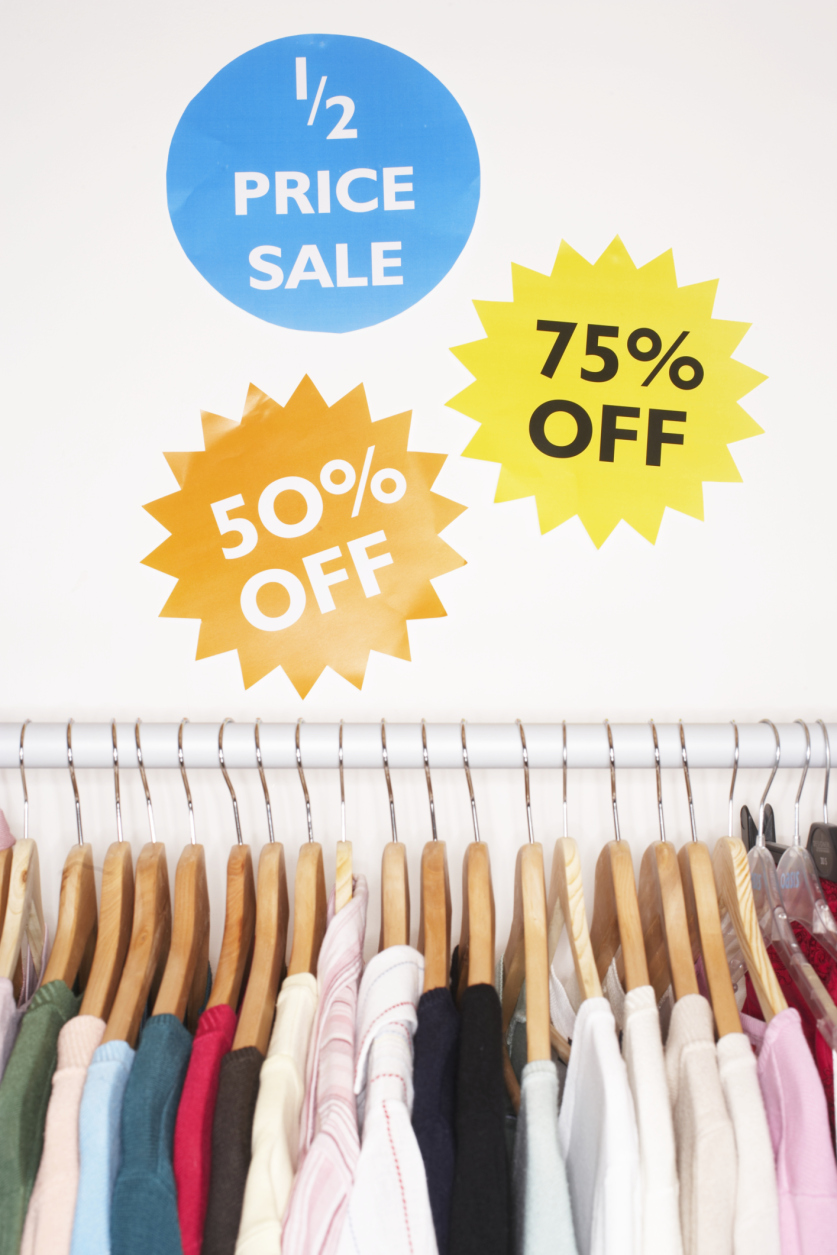 Custom Search

Custom Search
Search online clearance sales – Clothing stores often put clearance items on sale at their website.  Just find the button and click to see what bargains you can find.  RetailMeNot.com can help you search quicker for bargains.

Sign up for a store loyalty card -- Many retailers offer a discount of 5% or more for those who sign up for a loyalty card.  Target, Kmart, Sears and JC Penney all have loyalty cards.  Target gives a 5% discount on all purchases with their loyalty card.

Shop at Outlet Stores --   Many retailers offer deeply discounted merchandise at their outlet stores.  Usually there is nothing wrong with the clothing, it just didn't sell in their retail stores. 

Swap Clothing with Others -- If you have an item of clothing you're tired of wearing but it is still in good condition, you can swap it for an item of clothing owned by another person.  The website 99Dresses.com allows you to upload an image of the clothing and if someone wants to buy it, you can earn credit points to purchase clothing yourself. Another online consignment shop is SnobSwap.com, which is known for designer clothing and shoes at a huge discount.

Avoid dry cleaning whenever possible -- Dry cleaning is very expensive and therefore should be avoided whenever possible.  Although many clothing labels recommend dry cleaning, about 25% of the time, the item can be laundered in your machine at home or by hand.  Ask your dry cleaner.

Buy clothing at the end of the season -- Clothing stores significantly mark down clothing to make room for their Spring or Winter merchandise.  The coat that originally sold for $260 in November will be marked down to $80 by the following March.  Therefore, Spring is the time to get a good deal on a winter coat; Fall is the time to get a good deal on a pair of shorts.  You can cut hundreds from your family's annual clothing budget by shopping this way.

Buy discounted designer clothing – There is no need to pay retail for expensive designer clothing when you might be able to find it discounted at DesignerApparel.com. This website tells you where you can find discounted fashions from dozens of the top fashion designers.

Buy clothing at Consignment Shops and Thrift Stores-- Although the idea of wearing second-hand clothing turns many people off, most of it is in very good shape and sells for significantly less than retail.  Used clothing is a very good idea for children, since they grow out of everything so fast.   But bargains in adult clothing can also be found, particularly at consignment shops.  Sometimes you can find good quality designer outfits that still have the original price tag on them or were hardly worn, particularly if you shop in affluent areas.  These items were likely purchased by wealthy women who were shopaholics and needed to make room for new purchases. 

A consignment shop is also a good way to sell clothing you don't want any longer, but is still in good condition.  You split the profit with the shop owner. 

Avoid the mall and try to buy clothing from a wholesaler -- Retail space at your local mall comes at a premium price for the retailer, who passes the cost on to consumers.  This is why clothing costs three times as much at the mall as it does from a wholesaler.  Buy clothing at discount outlets or from wholesale catalogs and you can reduce your clothing budget by about two-thirds.  Shop for clothing at the mall only when they've drastically reduced out-of-season merchandise.

Open a store credit card -- Department stores and other retailers usually send discount coupons to those who have a store credit card.   Keep in mind that department store credit cards usually come with a very high interest rate -- 18% to 28% -- so you don't want to actually use them to make purchases unless you pay the balance in full each month.  Also, keep in mind that opening new credit accounts can lower your FICO credit score, which could result in higher insurance premiums and higher interest rates when obtaining financing.